You can find a Spotify playlist for the top albums here, and one for the top songs here.
ALBUMS
:
1) Celebration Rock by Japandroids
Celebration Rock does little more than explore and scream what it means to be young and drunk. Nearly every song utilizes this thesis, and that cohesive nature more than makes up for the album's length, which is far shorter than one would hope. But that's how the greatest nights are: loud, full of promises to yourself ("The House That Heaven Built") and to others ("Younger Us"). On "Adrenaline Nightshift", Japandroids sing that they're "waiting for a generation's bonfire to begin". While they were busy putting this masterpiece together, they didn't seem to notice that they light the flames themselves.
2) Tramp by Sharon Van Etten
Sharon Van Etten fans learned a very simple lesson this year: if you want your music to rise from good to great, hire somebody from The National. That group's Bryce Dessner produced Etten's third effort, Tramp, and his influence can be felt in every corner of this album. And this album is overflowing with corners. The ballads are quietly huge, and the louder tracks are measured and refined. Tramp may allow for outside voices, but Etten is clearly at the helm of this project. Her vocals remain powerful and assured, even when she sounds on the verge of tears ("Joke or a Lie").
3) Attack on Memory by Cloud Nothings
Where Japandroids' Celebration Rock screams to overpower the questions that could ruin the perfect night out, Cloud Nothings' Attack On Memory is shouting about these troubles. "Wasted Days", the album's stand-out track, gives us the band's mission statement: "I thought I would be more than this". That idea, of failing to live up to the best of ourselves, permeates the entire record, from the dirty, layered "No Future/No Past", to the infectious and terrifying "Cut You". That track, as well as "Fall In", proves that while Cloud Nothings have grown, they haven't forgotten how to pack two or three hook-filled songs into one, in a way that never
becomes disorienting.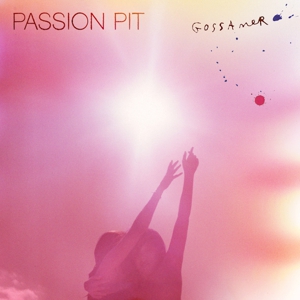 4) Gossamer by Passion Pit
Passion Pit's Gossamer is an incredibly easy album to love. Its pulsing drive and wicked hooks whack their way into your brain through sheer force, if nothing else. It's difficult to not be in the mood for Gossamer. If you want to dance, listen to the music. If you want to stew, focus on the lyrics. This marriage between dark words and cheerful instrumentation is by no means novel, but Passion Pit knows the area well enough to craft a near-perfect pop album.
5) Transcendental Youth by The Mountain Goats
Rarely does a record utilize a fake-out in the way that The Mountain Goats do on their new album, Transcendental Youth. The opening song, "Amy aka Spent Gladiator 1" is a celebration of life and experimentation. It's a pleasure, with the reassuring line "just stay alive" carrying it along. Then we get "Lakeside View Apartments Suite" which finds lead singer John Darnielle telling a story from the perspective of a drug dealer, and it's all emotionally downhill from there. Luckily, The Mountain Goats are most successful when telling these kinds of heart-wrenching stories. Whether updating us on All Hail West Texas' "Jenny" in "Night Light", or telling the true story of Frankie Lymon in "Harlem Roulette", Darnielle utilizes the addition of a horn section to grow these short stories to something transformative. And if it ever gets a bit too heavy (and it may), you can always start the album over again and have The Mountain Goats tell you to "do every stupid thing that makes you feel alive". The heartbreaking songs that follow this creed enhance just how important it is.
6) Heaven by The Walkmen
7) Bloom by Beach House
8) Red by Taylor Swift
9) Among the Leaves by Sun Kil Moon
10) Kaleidoscope Dream by Miguel
11) good kid, m.A.A.d city by Kendrick Lamar
12) Hospitality by Hospitality
13) Mixed Emotions by Tanlines
14) channel ORANGE by Frank Ocean
15) Arrow by Heartless Bastards
16) Local Business by Titus Andronicus
17) Total Loss by How to Dress Well
18) Luxury Problems by Andy Stott
19) Old Ideas by Leonard Cohen
20) The Idler Wheel by Fiona Apple
SONGS:
1) "Bad Religion" by Frank Ocean
2) "The House That Heaven Built" by Japandroids
3) "Hold On" by Alabama Shakes
4) "Be You" by E-40
5) "I Belong In Your Arms" by Chairlift
6) "Evening's Kiss" by Willis Earl Beal
7) "Chum" by Earl Sweatshirt
8) "Hollywood Forever Cemetery Sings" by Father John Misty
9) "45" by The Gaslight Anthem
10) "Winter Fields" by Bat For Lashes
11) "Backseat Freestyle" by Kendrick Lamar
12) "I've Seen Footage" by Death Grips
13) "Climax" by Usher
14) "Christmas Unicorn" by Sufjan Stevens
15) "Sleepover" by Hospitality
16) "Losing You" by Solange
17) "Watch the Corners" by Dinosaur Jr.
18) "The Day You Won the War" by White Rabbits
19) "Do Ya Thing" by Gorillaz
20) "Quick!" by The Magnetic Fields
21) "Wasted Days" by Cloud Nothings
22) "We Can't Be Beat" by The Walkmen
23) "Little Talks" by Of Monsters and Men
24) "Flesh and Bone" by The Killers
25) "Run My Heart" by Twin Shadow