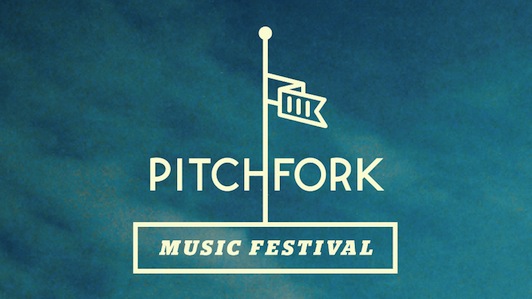 This is by no means a complete examination of 2013's Pitchfork fest. I didn't see every band, and I only briefly passed through some of the non-musical parts of the festival. What I can give you is a breakdown of the one path, out of many possibilities, that I did take through Union Park. One of the great things about festivals with multiple overlapping stages is that everyone leaves with a unique view of what went down, a mental map built from the decisions they made. Without any further ado, here's what I chose to do that weekend.
After waking up on a friend's couch after starting my birthday celebrations at Neo (an industrial and new wave themed dance club) two days early, I printed out my ticket, slammed some yogurt down my throat, threw on some sunglasses and ran off to Union Park. Predictably I arrived just in time to wait in line. Once I was let in my goal was the Blue Stage, the smaller and significantly shadier stage, which, by the time I reached it, was home to
Frankie Rose
. As I'm only vaguely familiar with her recorded output, I can't comment too much on how well this live set represented her material. Rose and her band play a relaxed and understated form of rock music with plenty of ethereal synths and reverbed soft vocals. While it was a nice easy start to the day it also served as definitive proof that I was at Pitchfork Festival. Rose also had a strange way of deflating the mood of her music with her own stoner gurl stage banter. It didn't really matter too much, because the real reason I was at the Blue Stage was
Trash Talk
.
For this set I was joined by one of my coworkers, who had never heard of the California hardcore quarter before. This seemed to be the general state of the audience, who despite not being particularly well acquainted with mosh pit etiquette, did a reasonable job of handling the vicious bursts of energy being thrown at them from the stage. Trash Talk, equally hampered by an oblivious audience and the perils of open air sound (namely having their guitar sound thrown to the winds instead of hitting you straight in the face), still gave the set their all. Propelled by new drummer, and The Mars Volta alumni, Thomas Pridgen, the band sprinted through their set only pausing to give orders to the crowd and props to Chief Keef and Lil B.
When the dust settled (literally; outdoor moshpits have that effect) my coworker and I decided to make our way over to the Red Stage to watch
Woods
, although due to the terse nature of Trash Talk's set, we ended up spending a lot of time exploring the park itself, while
Mac Demarco
plowed through a cover medley that reeked of condescension and sneering sarcasm. I can tolerate a certain amount of disdain for an audience - hell sometimes its utterly warranted - but Demarco doesn't allow anyone else to be in on the joke. It's pure misanthropy for the sake of it. But maybe I'm full of shit because I didn't stay for the whole set. Whatever.
Either way, back to Woods, another band that I would be lying if I said I knew all that much about. Without any prolonged introduction or audience interaction the band drifted into a series of pleasant acoustic jams. From my memory of their recorded work, their live sound was significantly less psychedelic or distorted, and their singer's full-bodied upper range had transformed into a meek falsetto. I would also be lying if I said that I was drawn in, but oddly enough as we drifted further away from the stage, the band sounded better and better. Some music simply sounds better when heard on the other side of a park while you hang out with your friends then when you listen to it intensely. On the other side of the spectrum is
Angel Olson
, whose quiet and intimate approach felt oddly muted, despite her incredible voice and unique songwriting. While abandoning both acts to grab some beer (Goose Island's Green Line, which remained my go-to choice for much of the weekend) and some food (a falafel that was too much pita not enough falafel) a freak coincidence of both Woods and Olsen playing in the same key struck a happy medium. Someone should make that collaboration happen.
While standing around enjoying the bizarre effects of IRL mashups, I happened to bump into another batch of friends, one of whom enthusiastically suggested that we head back to the Blue Stage in order to catch
Mikal Cronin
. The crowd, which had vastly expanded since I last passed the stage lacked the energy of its smaller earlier incarnation during the Trash Talk set, but still roared appropriately for the multitude of guitar solos that soared off the stage. Mikal Cronin doesn't have the tightest band in the world - his drummer in particularly sounded wooden at times - but the band has the benefit of strong melodies and casual exuberance. Even though his songs generally followed a strict "verse/chorus/verse/chorus/huge guitar solo/chorus" structure, each time they launched into the back half of each form, it was engaging and fresh. A set like this is going get overlooked in the favor of larger productions or gimmicks, but it's bands like this that hold huge bills together.
Somehow during Mikal Cronin's set I lost track of the gaggle of friends that I had assembled, so I went off to the Red Stage solo. My attempts to call and locate my coworker were thwarted by
Wire
, who I had initially avoided out of fear of watching old punks go through the motions. While I didn't catch much of their set, it seems like that notion was pretty ill conceived, as they sounded pretty damn good and weren't bending to anyone's nostalgia for
Pink Flag
. The summer sun, which I had also avoided due to my tendency to spontaneously combust when exposed to light for too long, was beginning to set, putting a tranquil mood over the massive crowd gathering for
Joanna Newsom
. Although it sounds kind of ridiculous to say this, Newsom's set was fucking relentless. It says a lot about the confidence and fortitude of an artist when they casually toss a song like "In California" second in their set list before diving into three brand new songs. For a songwriter whose material can get as labyrinthine as Newsom's, this takes a lot of faith in ones' audience. Faith, along with adoration, was something that the crowd had in spades however, which ultimately paid off when Newsom threw in older classics like "Sadie" and "Cosmia". Even when she stumbled briefly, chiding herself with a GOB-esque "COME ON!", the crowd ate it up. This could be attributed to the fact that Newsom is one of the most remarkable musicians working these days, a fact obscured by her records but made abundantly clear when you see her play in the flesh. I'll admit that I haven't seen too many harp players, but I haven't seen many instrumentalists of any discipline as compelling as Joanna Newsom.
Friday closed with another artist whose virtuosity is accentuated, although not clarified, by live performance. It's a shame that the enormous storm that cut the last quarter of
Bjork's
set short will likely overshadow what she was capable of doing before the clouds rolled in. Dressed like a firework in mid explosion and surrounded by a women's choir, Bjork spent a solid hour transforming her already elaborate songs into something grand and unearthly. Much of the set was spent on material from last year's lackluster
Biophillia
. Where that record felt plodding and ponderous, the live versions of the songs bristled with tension and anxious energy, all of which came to a head in the set's final four songs. "Joga" and "Pagan Poetry" both swelled with gorgeous vocal harmonies and body warping bass, setting the crowd up to be totally annihilated by a earth shattering rendition of "Army Of Me", complete with a motherfucking Tesla Coil. The de facto closer "Mutual Core" captured all of these elements in a single performance, building from sparse synths to pounding percussion and shimmering dissonance over the space of six minutes. While it was certainly a let down to trudge back home through the rain robbed of four more Bjork songs, it's hard to imagine that it could have been better than what we already had.
Heading into the festival, Day 2 was more of an obligation than the other two. I had purchased by tickets on the strength of Day 1's dual headliners and Day 3's heavy emphasis on hip-hop. The middle day was a bonus, a nice way to spend my birthday in between the "real" focus of the weekend. As it turns out, this wasn't really fair, as I got just as much out of Saturday's lineup as either of the other two.
Like the day before, I started the festivities at the Blue Stage, this time getting front row for KEN Mode, a Canadian mathcore band. While they haven't received the same level of critical attention as say, Deafheaven, KEN Mode are well on the way to having a breakthrough year. Their most recent album, Entrench, is a monster, and the tunes they played from that record, namely "No, I'm In Control" and "Your Heartwarming Story Makes Me Sick" were clear highlights. Like the best heavy acts, KEN Mode knew when to switch from blindingly fast to crushingly slow, using this abrupt shift in momentum to close out their set with a monolithic dirge with guest vocals from the singer of Atlas Moth. Being front row I couldn't tell how the crowd reacted to what they saw, but I know for sure that fans of hardcore and heavy metal need to check this band out immediately. When I did turn to face the audience after their set, I ran into another friend of mine who works for Epitonic and his buddy, a drummer for an insane local Chicago band. We consulted our schedules, found them to mostly overlap and decided to tackle the rest of the festival as a team.
Our first order of business was Pissed Jeans at the Red Stage. Everything I found obnoxious and insidious about Mac Demarco was what made Pissed Jeans an absolute blast to watch. The difference was how upfront the band was with their disdain. Instead of hiding behind covers they openly bragged about how they were getting paid and mocked the corporate sponsors for the festival. It helped that their brand off kilter punk struck a perfect balance between absolute goofiness (their singer and guitarist shoving each other out of center stage) and legitimately infectious energy. The only problem was that after about 20 minutes the point had sort of been proven, so we made our way back to the Blue Stage for Julia Holter. After two sets of high-energy aggression, Holter's laid back and intricate compositions took some getting used to, but her unique instrumentation (violin, cello, keys, and saxophone?) gradually grew on us. Although we didn't stay for her full set, I've made a note to check out her records in a more appropriate setting.
Growing hungry, we grabbed some hotdogs and lemonade and took a short trip through the record store tent. There's a staggering amount of music to explore, and it's not hard to image someone spending their entire day crate digging and shuffling through the avenue of artists selling posters. Even though the live performances are the main attraction, it's impressive that Pitchfork is able to sustain such a massive and deep community of art beyond the headliners. Sadly, all of us were short on cash so we had to retreat back to the Green Stage for Savages.
At this point the sun was becoming a bit too oppressive for comfort, but none of us had any right to complain when faced with Savages' all black all the time approach to fashion. The visual of the band, especially singer Jehnny Beth's deliberate and arresting stage presence is an easy sell, but it's inconsequential next to how good they sound. Driven mostly by bass lines worthy of any classic post punk act, the group does an incredible job of allowing each member their own space. While the bass, guitar, and vocals all provide melody, there's not a single moment where they step on each other's toes, and the guitar is just as likely to slide into pure texture. While the band never truly explodes, their game is mostly in building the pressure to a breaking point and pulling back when you least expect it; their live show takes their already taut songs to new heights. It's easy to dismiss the band on their relatively meteoric ascent, but they're doing a great job of asserting their reasons for being here. As they left the stage, Beth gave a short order to the crowd to head over to the Red Stage for Swans. We did so gladly.
Swans are a fucking intense band. Their most recent record, The Seer was one of 2012's most challenging and time consuming records, one that denied easy rewards and obvious catharsis in favor of prolonged discomfort and unease. Live, most people simply can't handle it, and scores were leaving only 10 minutes in, which in Swans terms is about halfway through one song. It often felt like Swans had taken the ending to a normal song and stretched it out over the course of an hour, exploring every facet of the way sound grew and broke down over time. At a certain point it became impossible to tell which notes were coming from which instruments, the mix coalescing into a single object falling repeatedly from a great distance onto my skull. Conducting this force of nature was Michael Gira, who resembles a character from a Cormac McCarthy novel more each year. During a brand new song titled "Oxygen" Gira left his guitar behind to dance in the least graceful yet most hypnotic way possible over a disjointed bass line and a swirl of percussion. Somewhere in the middle of this song I realized that I was developing a brutal sunburn, but I can't think of a better to band to slowly boil alive while listening to.
When Gira and company finally let up, we returned to the Blue Stage to watch their tourmates, the perpetually chill Low. Here, I need to make an apology. Low's last album, The Invisible Way didn't really do that much for me. My impression was that it was more of the same from a band trapped in a style that didn't lend itself to variety. What I didn't really take into account was Low's ability to find new beautiful songs in old forms. Part of the material's improvement was how much more room the guitar had to stretch out and hover in the air in person, but more importantly the songs are just incredibly well written. Hearing "Plastic Cup" after a year of job hunting and post-college confusion was one of the more emotional moments of the whole weekend for me. Low are a band of craftsmen, and though their music can slide into the background when you aren't paying attention, it works wonders under the microscope. The band were even able to transmute Rihanna's "Stay" into something that could believably come from one of their own records. After the sensory assault of the last few acts, ending on a note of pop levity was greatly appreciated. From here, I made my way out of the park to celebrate my birthday, and rest for Day 3.
This extra time off was necessary because unlike the last two days, I planned on spending most of Sunday in the dead center of the crowds, and most of the sets I wanted to catch were on the Green and Red stages, exposed to the summer sun. So with sunscreen in hand I claimed my turf in front of Green Stage, where Tree started the day. I'm going to be honest; I find it kind of difficult to listen to hip-hop songs for the first time in a live setting. The genre may have been built on live DJing at parties, but these days the production and song writing style is much more geared towards recording. It's also difficult to party in a crowd of strangers in broad daylight at 1:00 in the afternoon to music that next to no one in the crowd has heard before. Despite these setbacks, Tree performed like a champ, bringing out friends for guest verses and keeping the momentum of the set at a fast pace. Although his band occasionally sounded under-rehearsed, the energy was high and infectious.
Youthful exuberance was not what I came to see however. On the contrary, my goal for the day was to see Killer Mike and El-P back to back. The duo's collaborative record, Run The Jewels, was a master class in balancing straightforward ass kicking and mind boggling complex rhythm schemes. Although El-P watched from the sidelines, Killer Mike's set did not contain any tracks from RTJ, but it didn't really need to. On top of his immense, and frankly inarguable, skills as a rapper, Mike is an incredible performer, taking time to rewind key lines between songs and passionately urging the audience to make the world a better place. Killer Mike's biggest strength is his ability to come across as a complete human being, able to rap about his street credentials, political agitations, and spiritual beliefs all with equal conviction. There have been a lot of critics accusing Pitchfork of pandering to the ironic crowd with their booking choices this year, but you'd be hard pressed to find anything other than sincere emotions and technical excellence during this set.
As Mike finished up, he told us that he would return briefly during El-P's upcoming set, complete with a different pair of shoes. Knowing what this meant, I did a mad scramble through the crowd to the Red Stage. El-P's set up was significantly more elaborate than Mike's "DJ+MC=profit" minimalism. Armed with a live keyboardist, and a guitarist who also played percussion, El-P made it clear that even though he was in rapper mode, his producer's ear wasn't taking the backseat. Not to suggest that his set was anywhere close to a soundtrack for chin scratching. All of the tinkering and tweaking is to serve the larger goal of getting a visceral and physical reaction from the audience. Even El-P's topsy-turvy approach to rapping comes across as much more direct and infectiously kinetic live. The set also was in a constant state of escalation, starting first with two highlights from El-P's Cancer 4 Cure and then bringing out Killer Mike (with a new pair of Jordan's as promised) for a whirlwind tour through material from Run The Jewels. At its climax, the set returned to C4C for a rendition of "Tougher Colder Killer", featuring Despot, another redheaded NYC rapper, for a three MC free for all. You could read all of the tricky word play and boastful language as being competitive, and there were certainly traces of that, but more than anything El-P's set was about camaraderie: between each of the musicians on stage, and between the performers and the audience. The world is full of madness and violence, and for a solid two hours, we started this violence in the face and by doing so, defeated it.
This sense of unity was fleeting however. As El-P and Killer Mike left the stage, so to did a large portion of the audience wander back towards the Green Stage for Yo La Tango. They were quickly replaced by a legion of kids wearing pink bandanas and near delirious from a potent combination of drugs and heat. I was now trapped in basedworld, and while I had no intention of escaping, I was starting to feel a bit out of place. Yo La Tango could probably relate, stuck next to hardcore hip-hop on one end, and retro-minded indie rock acts on the other. But if the trio felt any discomfort, they didn't show it. I've never really been a fan of their music, but I was impressed by the humble and workmanship like manner in which they played their set. My admiration grew as they reached their final two songs, both long and concerned more with gradual growth and mood than melody. Though I doubt my interest will continue to their recorded material, it was a wonderful diversion and calm before the largest storm of the weekend.
Lil B is, in my opinion, the most fascinating, wonderful, and infuriating artist alive. Very little of his creative choices make much sense, and often don't register as conscious choices at all. His public persona and the content of his lyrics seem deliberately contradictory. He is simultaneously joking and painfully sincere at all times. Approached from the distanced vantage point on the Internet, it's not difficult to juggle the various incarnations of Brandon McCartney at once. In person I found it utterly impossible. Although the Based God's arrival on stage was met with ecstatic approval, shit almost immediately got weird. I've been going to hardcore and metal shows for nearly a decade now, and I can say that I can count on one hand the crowds that have gotten more rowdy than Lil B's. I spent the first few songs of Lil B's set helping people escape the front rows as an endless horde of bros crashed forward. I have nothing against a crowd getting hyped, but things seem way creepier when the majority of the crowd is group of young men screaming "YOU CAN FUCK MY BITCH." On the other hand, when things had balanced out somewhat, I had an absolute blast. There are few joys more absurd and mindless than chanting 'let the bodies hit the floor' in the middle of a cooking dance mosh pit at Pitchfork Fest while Lil B throws his shirt into the crowd and puts on a farmer's hat. Lil B's stage banter was also the exact mix of new age positivity and nonsensical one liners that I could have asked for, but it was hard to feel one with the universe when the dude next to me shouts an empathetic NO when asked if he respects women. So while hearing Lil B do an a capella run through of "I Love You" immediately after performing the normal version of the song was beautiful for its ridiculousness, I left the Red Stage with a decidedly unbased disposition.
I found myself sitting alone on a baseball diamond, cramming a hotdog into my mouth and washing it down with Goose Island's limited "Run The Jewels" beer, unable to reach any of my friends due to my shitty cellphone reception. As I mulled over the beer and my disappointment with the rest of Lil B's fandom, two girls approached and said they recognized me from my band and had seen me at a few parties. After a few seconds one of their faces looked familiar, so I pulled myself out of my dejected stupor and chatted politely about the rest of the festival. Having no real plans for the rest of the night, I joined them for M.I.A. the next act gearing up on the Red Stage. After a day of pragmatic staging, M.I.A.'s audio/visual assault was a drastic change of pace. Backup dancers swirled around her, mostly unchoreographed, while large elaborate wheels bloomed with color. Sadly, this spectacle couldn't cover up the somewhat lackluster performance from M.I.A. herself. Feedback screeched from her mic in between songs, and one track was so disjointed that she stopped it half way through and started it over again from the top. Gradually growing sick of her shit, the three of us retreated to the Blue Stage for Glass Candy. Here, all of the "love your life and have a great time" posturing of Lil B was realized through the power of synthesized arpeggios. Although I stood just outside of the dancing mass, a smile returned to my face, and stayed there for the rest of the festival.
Here, I was confronted with a choice of how to close off my weekend. Either I could stay at the Blue Stage for TNGHT or join the majority of the people in the park and watch R. Kelly at the Green Stage. I knew this decision would have to be made at some point, and everyone I brought it up to all weekend said that the choice was obvious. Given the overwhelming consensus, I'd imagine you probably agree with my friends. And so here, I must let you down: I chose not to see R Kelly. Maybe it was out of fear of having to bear the critical burden of addressing what R Kelly's place in the lineup signified. Maybe it was because the two, admittedly attractive, girls I was hanging out with wanted to see TNGHT and were offering me terrible vodka. Maybe it's just because I like "Higher Ground" more than "Ignition (Remix)." Whatever my reasons were, I stayed at the blue stage and did not for one minute regret it. There was a lot that I didn't recognize from TNGHT's set, but it didn't matter. Every drop sent shockwaves through the audience, turning the park into a sea of roiling flesh. I don't claim to be an expert on EDM, but this was some seriously high quality work. The tension was palpable before each switch in rhythm, and the ease at which Lunice and Hudson Mohawke integrated classic G.O.O.D. Music tracks, including a monstrous remix of "Mercy" into their set was stunning. From a critical standpoint there isn't much to say honestly, it was a blur of hedonistic excess scored by two of the best producers in the game.
The next morning I woke up and peeled dead sunburnt skin off of my shoulder. I still believe I made the right choice.