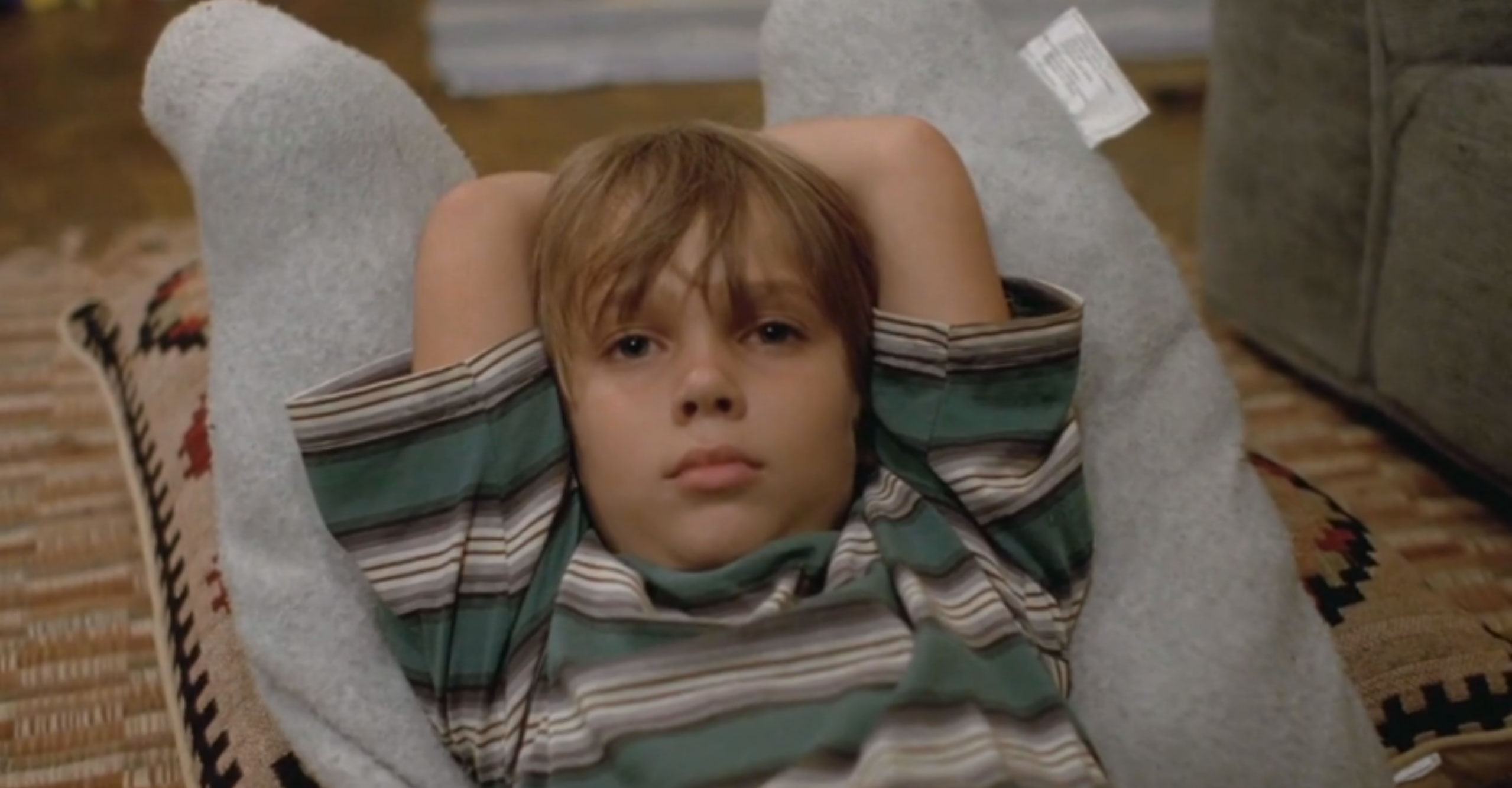 This post discusses Boyhood, and my personal life in full. Consider yourself warned.
"I think the boring stuff is the stuff I remember the most." – Russell, Pixar's
Up; my high school senior yearbook quote
"The moment seizes us." – Nicole,
Boyhood
If first grade Mason constantly has his eyes locked outside the window, mine are firmly set in the direction of the rearview mirror. I've always been obsessive about the past, the way my story is shaping up to be. It's an unpleasant way to live, constantly feeling the need to contextualize even the most minor experiences. It's certainly not the healthiest outlook, the present and future curbed by expectations from and comparisons to what once was. Even when I daydream of what is to come, it's in relation to people I've known or places I've been. Context is there for everyone, but I become jammed in a need to consider all of my life to this point.
Boyhood
is a powerful film even without this outlook. It even works to reject it to a certain extent. There's no framing device, no sense that these are Mason's memories filtered in retrospect. But it can be difficult to view this collection of childhood and teenage events and not compare them to one's own. It's there in the way that every audience I've seen the film with has reacted audibly to the inclusion of Oregon Trail. Any age can relate to the macros of Boyhood, or translate the details to their own, but given that I'm only three years older than Mason I know nearly firsthand how these markers defined youth in the past decade or so.
Pop culture is a vital aspect of Boyhood, a tool it utilizes better than nearly any other film. None of the cues feel like cheap ploys to garner relation. They come across as authentic totems of a life lived in this time, from a Nintendo Game Boy Advance SP to "Somebody That I Used to Know" blaring in a bar. This is one of the greatest boons of filming as the years actually go by; if they were filled in looking backwards, it would have been more difficult to differentiate between the actual pop culture and that which we choose to remember. And those artifacts don't simply reach for the most general; of course Mason Sr. loves Wilco's Sky Blue Sky, and is a year late to it to boot. And Mason Jr. seems like the kind of person who would choose Arcade Fire's The Suburbs as the soundtrack for a 2012 road trip. The pop culture we encounter in our youth comes to define that passage of time to a certain extent, from the songs in the background of a party to the video games we play to while away the hours.
As the years go on, Mason's life revolves less around these markers; we see more of his girlfriend and job and less of Halo. This is how it often is for those who don't become pop culture obsessives like myself. There's less demand for things to pass the time, as careers and passions overtake the endless summers of youth. Of course, as one of those obsessives, I've never lost the desire to track my time on Earth with films and TV shows. I too watched Dragonball Z as a kid, but I'm watching Sailor Moon now. I loved Harry Potter as a kid and I love Lev Grossman's The Magicians series now. And Boyhood is a landmark for me, the first film I've seen four times in theaters in the same number of days. It gets at a part of me that I've been concerned with for a long time, and a piece of me that I didn't know existed.
The film's been more than just art for me, though; it's more like a therapy session. And the fourth viewing was the breakthrough I've waited years for. I understand myself on a deeper level and my true, rooted problems are coming into focus. I've always known my need to contextualize my life as a problem, but seeing it reflected in Boyhood opened up wounds that I'd long buried. Olivia, Mason's mother, breaks down in her final scene. She lists the landmarks of her life, considering the next to be her own funeral. "I just thought there would be more," she says in a moment that always succeeds in making me sob. But there is more, corners of life that can't be summed up in a list. In just the previous scene, we see how she changed one man's life forever, a powerful reminder of the effect we can have on others without realizing it. It's a moment reflective of being a parent, offering encouragement and advice, but also of simply being a human being willing to aid those around us. It's a powerful thing that a more plot-driven film wouldn't have time for.
Olivia reminds me a lot of my mother
(though hopefully not in the way mentioned above; also, my parents are still together)
, thanks to Patricia Arquette giving the best performance of the year so far. Some of her mannerisms gave me whiplash, given how closely they hewed to my mom's behavior. When Olivia asks Mason if he's been drinking, she laughs at his answer and says they'll talk about it in the morning. She's a kind, giving woman who doesn't always get the respect she deserves from her kids (as, it would seem, many deserving moms of surly teenagers don't). I also see shades of my father in Mason Sr., though again with the distinction that he's been around for all of my life (related: can we officially stop being surprised when Ethan Hawke is astounding, as he is here).
The Black Album
gift that he makes for his son is incredibly similar to a number of presents my father has given me, made with care and a desire to connect. If you were to combine my two little sisters, you would be fairly close to an approximation of the film's Samantha (Lorelei Linklater is such a naturally gifted performer from the beginning; there's something unnaturally strong in that bloodline). The older captures her occasional ebullience and the younger her loving eye rolling. When Samantha defends her brother backhandedly by saying that he just painted his nails to fit it, that mirrors a lot of the flashes of pure love my sisters and me show one another.
I've tried to explain to friends that both have and haven't seen Boyhood precisely what it is that makes it such a rich, engaging three hours for me. A lot of that comes down to these details. Even the ones that don't register in the same order apply somewhere else; my dad never took actuarial exams, but a close friend did. One of the most incredible things about the film is how it manages to find a universal voice within its specifics. When you hit the details you relate directly to, they shade in the ones you may not share. When you can tell that most of the film is authentic it helps in believing the rest of it is as well.
And none of this would hold together as well as it does without Ellar Coltrane's central performance that grows into something relatable
, perfectly in Linklater's character wheelhouse, and completely its own.
Of course, these particulars only get to a little of the whole of Boyhood. The twelve-year filming lends an overwhelming completeness to the entire story. You can see the face of first grade Mason in the expressions of senior year Mason, which is true of almost no other film. The power comes from the catharsis of aging, a continuum that only this technique could possibly utilize. There is an innate emotional pull to seeing over a decade pass for a group of people as the young grow old and the old grow older. This is mainly seen in the central four, but is so wonderfully gradual that only towards the end of the film did everything snowball and the passage of time truly hit me. There's also the late appearances of earlier characters like Jimmy or Carol, giving the film's universe a continuity. And, of course, the last-minute introduction of a girl named Nicole who may or may not have once passed Mason a note in their younger days, unbeknownst to both. When Mason's roommate introduces her, in all four viewings, the audience has gasped. But it goes unacknowledged onscreen, and the credits nor any interview I could find assures that the actress is the same. If so, it's a beautiful representation of the way that the strands of our life weave in and out of one another, intersecting at times we could never imagine. It she's not the same girl, it could represent that inability to know when coincidence occurs and when our fate or decisions lead us somewhere new.
Speaking of decisions, we see Mason make so few. Even when he cuts class for the darkroom, we see the consequence of that action rather than the act itself. This is captured beautifully in the film's final moments, when Mason and Nicole have a pot-brownie fuelled discussion of how life is really experienced. Nicole rejects the notion that life is about seizing moments; it's the other way around. Boyhood serves as proof of this theory, and of Mason's silly yet true follow-up that "it's always right now". A game of golf with your mom's new husband may not seem like much at the time, but it may be a signal of his anger problems to come. Or even the moments that don't lead directly to life-altering consequences, such as a late-night conversation with dad on the future of Star Wars over advertisement-ready s'mores, are vital pieces of our lives. So much art is concerned with the lesson of making every moment count that they forget something profound: every moment already counts. The big decisions we make are important, but the stuff that happens in-between those choices are the real meat of our lives. Innocuous phone calls or underage drinks define us just as much as which college we attend or career path we head down. All of it combines to create us, in our youth and beyond.
And it's here that I go back to my problem with spending so much time in reverse. I become perversely troubled by the experiences I didn't have, like a high school girlfriend or singular driving passion in my late teens. I don't bring this up to harp on a point I've made plenty of times before. Instead, it's to say that these things become festering holes in my heart that trouble me even when there's nothing I can do to change them. Boyhood captures elements of my life so truly, while piling on the things I wish I had done. Maybe this film can help me to move on; it serves as a statement that anything we do matters while also being a reminder of the innate difference between us all. I shouldn't be concerned with the way my past diverged from others, but I don't always do the emotionally healthy thing. I hope that Boyhood can help me to see that the memories I've gathered are just as vital and alive as anybody else's, and recognize going forward that there's always room to grow. I'm still young, but that doesn't always help me feel young. Maybe I'll find a Nicole from my past, or meet somebody new in the future. Whichever happens, I have to remember that it is, in fact, always right now. And thank god for this right now, and the one that follows. As I move away from my home state and family in the fall, I will try to live life to the fullest. This doesn't mean carpe diem. Quite the opposite in fact. It means recognizing the significance in all that I do, and all that I will do tomorrow.
No movie, or art in any medium, that I've seen has gotten nearer to the heart of the stuff that makes life truly extraordinary. Pointing to wedding days and first kisses is easy. What's tough is seeing the stupefying grandeur of a Harry Potter midnight release or the way our small actions ripple outward and change the lives of people we barely know. We only understand so much about our own experiences, and the scope of life is richer than any one piece of art can capture. Yet this one has come so miraculously close. Early in the film, Mason asks his dad if magic really exists in the world.
Boyhood
serves as a definitive answer to that impossible question.